8 Common Web Design Mistakes to Avoid for Your Business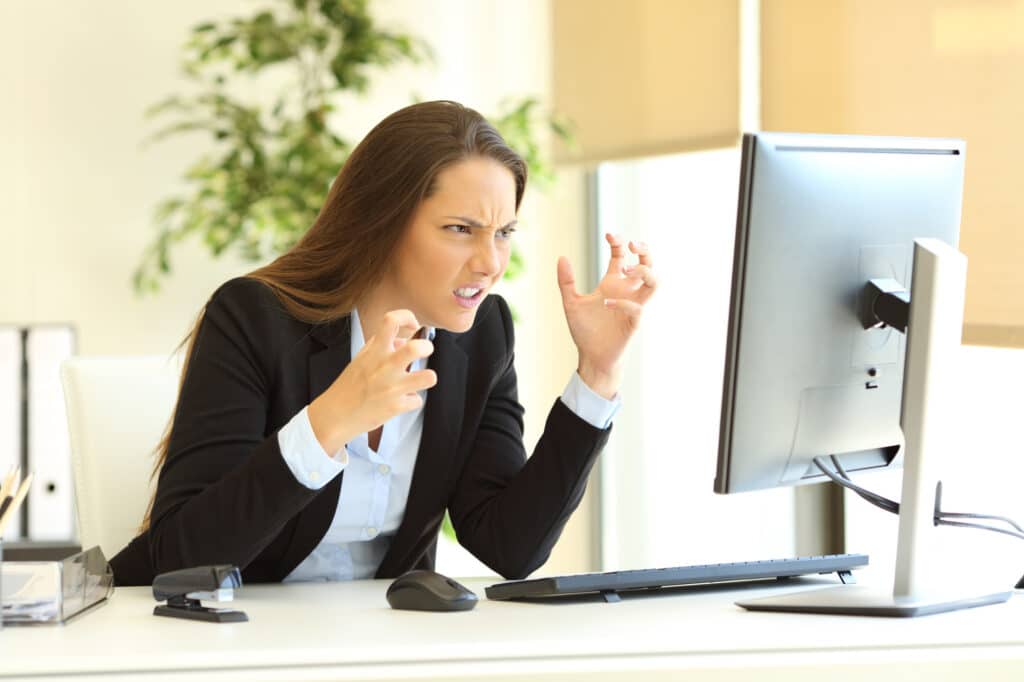 93% of American adults use the internet today, according to Pew Research Center. This is up from just over 50% at the turn of the century. While younger people are most likely to use the internet (99% of 18- to 29-year-olds), even 75% of adults over the age of 65 logs on online.

If you are a business owner, these statistics should be front and center in your mind. The importance of a good business website today cannot be overstated. While a growing number of businesses today do have a website, the reality is that many suffer from web design mistakes.

These mistakes can frustrate online users and send them looking for a competitor. In this blog post, we will highlight 8 common web design mistakes that you should be aware of. If any of the below mistakes ring a bell, be sure to contact our expert team to right the wrongs.
1. Slow-Loading Website
We're a long way past the days of dial-up internet (thankfully!), however, many business websites today still feel like they are living in the '90s. A slow-loading website results in a poor experience for online users.

Themes, plugins, and modules all contribute to a slow-loading website, so updating these elements will certainly help to speed things up. It's also important to optimize the images on your website, especially on landing pages which are so important (as we will see below).
2. Landing Page is Unaesthetic
Here's a statistic that we recommend you keep in your thoughts when considering the design of your website. Online visitors to a website are able to form an impression, whether positive or negative, within just 50 milliseconds.

The reality is that if online users don't like what they see, they aren't likely to hang around for long. Pay close attention to landing pages, given this is where visitors form their first impression of a website and—by extension—the business itself.
3. Overall Poor Layout and Design
Moving away from just the landing pages and the business website homepage, many business websites suffer from poor layouts in general. Your website should flow naturally, moving online visitors from page to page and towards a call-to-action (more on that below).

If your website is difficult to navigate, the user experience is going to be low. If visitors go around in a loop looking for the information they came to find, without success, they likely won't be making a return visit.
4. No Calls-to-Action
A call-to-action is designed to prompt an immediate response or encourage a sale. It comes in the form of a short phrase encouraging visitors to take an action, whether this is to buy now, add to cart, share on social media, subscribe, or contact the business directly.

Calls-to-actions should be properly placed throughout the website, though you should equally avoid over-using them. If your website doesn't currently have any calls-to-actions, it's unlikely that online visitors are going to make a positive action.
5. Essential Information is Not Present
Business websites with lots of features, photographs, and videos are great, but it's important to ensure that the essential, core information is not missing.

Examples of essential information include business hours, store location(s), contact details, and customer reviews. It's beneficial to integrate Google Maps into your website, so online visitors can easily see where your business's physical location is.

It's also essential that the email address listed on the contacts page is one that is checked on a regular basis.
6. Content is Dated
Designing a website and filling it with content is one thing, but it's another to ensure that it is regularly updated with new and relevant content. Otherwise, the website becomes stale and outdated.

Blogs sections are an excellent way to assert a business as an authority within its industry. If your blog is not regularly updated with new content, online visitors are unlikely to even check out any older blog posts.
7. You Don't Have a Mobile-Friendly Website
It's 2023, which means it is crucial that your business website works as well on mobile and tablet devices as it does on laptops and desktop computers.

Today, 85% of American adults own a smartphone. More and more of us are turning to our smartphones to browse the internet, which makes it essential that a business website is responsive and scales well to a smaller screen. Otherwise, your business website is likely missing out on a lot of traffic.
8. Website is Not Search Engine Optimized
SEO, which stands for search engine optimization, is a digital marketing strategy that works to increase a website's visibility and ranking on search engines such as Google.

If your website is not search engine optimized, its traffic numbers are going to be affected. People who search for relevant keywords online are less likely to be shown your website. Therefore, they are less likely to click on your website and become customers/clients.

Local SEO, in particular, is great for businesses with a local reach. It works to increase your website's visibility for people in your catchment area.
Web Design Mistakes to Avoid for Your Business
If your business suffers from any of these common web design mistakes, Distinct is the perfect solution for you. We build high-quality websites that are affordable and easy to use. Plus, we offer unlimited support so you can focus on your business.

Our websites are modern, user-friendly, feature beautiful designs, and come with unlimited content changes each month. Our team will also handle all the website maintenance for you, so you never have to worry about it again.

Schedule a call today to learn more.