Local Marketing Table Of Contents
Small businesses are central and essential features of their local communities. By using non-digital, digital, and mobile marketing strategies focused on specific geographic areas, small businesses can build their brand and their business within these communities. As a result, they can more effectively use their marketing dollars and carve out a niche for their business within the communities they know and love. To help you create an effective and profitable local marketing campaign, we have put together this comprehensive guide. If you like what you see, reach out to us to learn more.
Introduction
Local businesses are the backbones of their communities. Small businesses, defined by the Small Business Administration (SBA) as any company that employs fewer than 250 or 1,500 people, depending upon the industry, make up 99.9 percent of all businesses in the United States.
These 30 million+ businesses offer employment, connection, and resources to their communities. Consider the following ways in which small businesses support their local areas:
Employment
Small businesses employ 47.5 percent of the entire U.S. workforce, according to a JPMorgan study.
In the third quarter of 2016, 1.9 million jobs were created by small businesses, according to the SBA.
Connection
Small businesses often sponsor events, causes, and sports.
Small businesses often donate to local causes, food banks, and other nonprofits.
Small businesses often participate in improving their communities.
Resources
$68 of every $100 spent in a local business goes back to the community. Compare that to the $43 of every $100 that national organizations return to local communities.
61 percent of consumers rely on local businesses to offer them products they cannot find anywhere else, according to a 2015 UPS survey.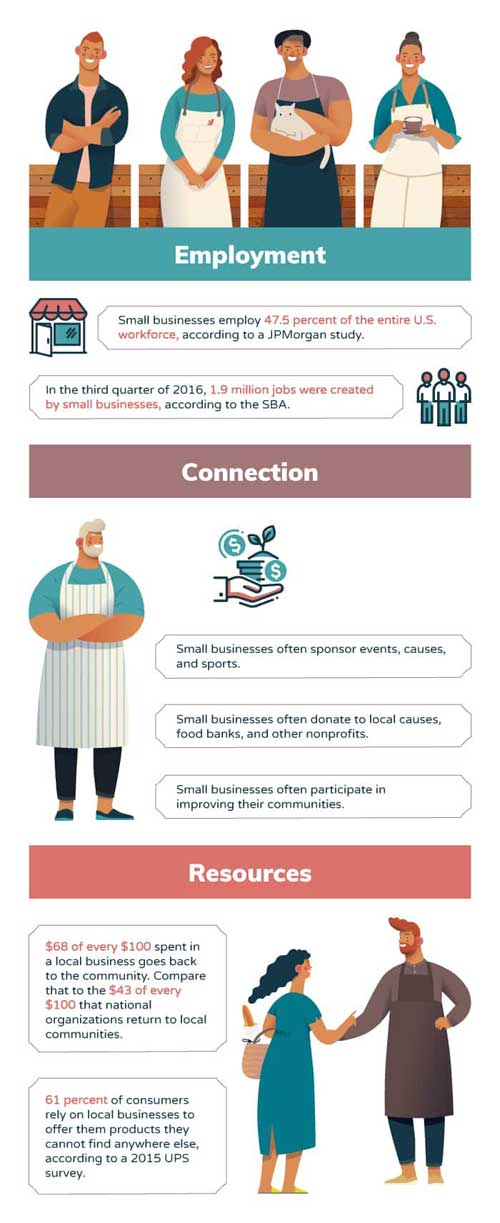 Beloved small businesses do more than add to a community's statistics. They create emotional connections with consumers (think of your local favorite stores). They give back to their communities (think fundraisers and events). They become part of the heart and soul of the community.
People like their local businesses. About 69 percent of people prefer to patronize them. They simply need to know about the local options available to them. That is where local marketing, also known as local store marketing, comes in.

Local Marketing: A Definition
Local marketing can be defined as any marketing strategy that targets people within a specific geographic area.
For example, a business may choose to target potential consumers in a town or city, a specific neighborhood, or a certain radius. It can be utilized to equally good effect by both local B2C businesses and local B2B businesses.
While it has not always been referred to as local marketing, the concept has existed as long as small businesses have been around. Strategies like word of mouth, local radio and newspaper advertisements, and Yellow Pages listings are all examples of tried and true non-digital local marketing strategies.
Times change, of course, and digital marketing is now a ubiquitous, and essential, part of marketing for businesses of any size. Digital strategies for reaching consumers locally include claiming business listings, creating email campaigns, and ad targeting.
WHO SHOULD USE LOCAL MARKETING?
Local marketing is a smart approach for any business that wants to attract attention and earn sales within a specific geographic area.
Even companies that serve many different areas can benefit from local marketing. They simply need to implement a campaign in each of the locations they serve.
However, local marketing is particularly effective for small businesses. Because these companies rely so heavily on their communities, targeting their local area is one of the most productive marketing strategies they can adopt.
If you are a small business, whether a local B2C business or a local B2B business, consider adding local marketing to your approach in order to enjoy the results and the community attention your business deserves.
WHAT LOCAL MARKETING IS NOT: SEO
Local SEO is a popular buzzword within the digital marketing world. It refers to the set of strategies businesses use to get themselves ranked on the first or second page of the search results for their local searches.
Local SEO is often mistaken for local marketing. However, businesses that only adopt local SEO lose out on a wide variety of strategies that could help their businesses thrive within their chosen communities.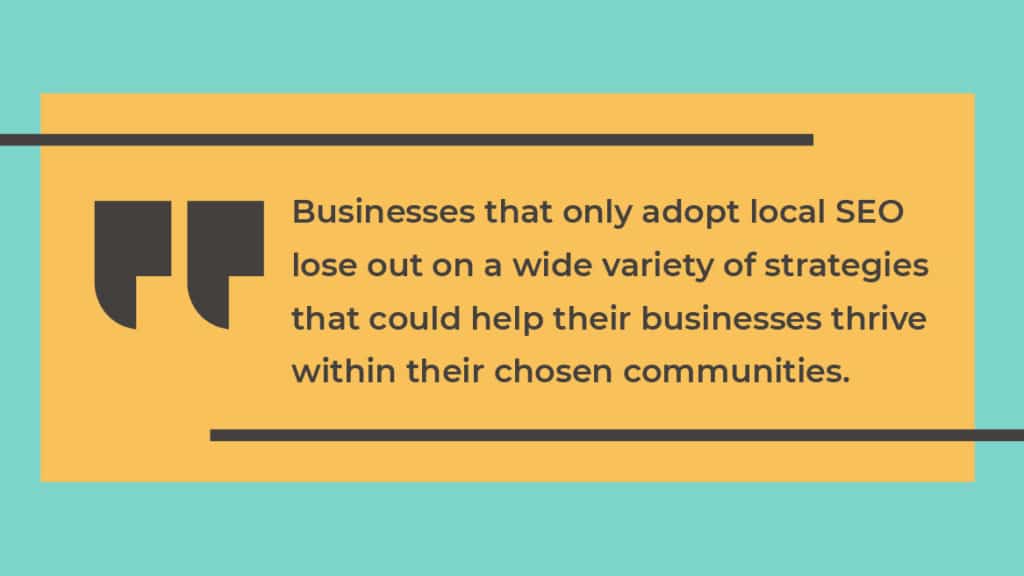 Local marketing consists of all the strategies you would use, both digital and non-digital, to promote your business within a specific geographic area. Local SEO is one of many local marketing strategies.
Consider including local SEO as part of your local marketing campaign, but do not make it the entirety of your campaign. There is a whole world of local marketing tactics from which to choose. Use all of them to your advantage.
Benefits Of Local Marketing
Everyone wants their business to be a popular and beloved staple of the community. The mistake that many small businesses make, however, is trying to achieve that goal by competing with big, national stores.
Competing with box stores and national chains is often a losing battle. It is the rare small business that has the resources to purchase television ads on national channels or the capital to invest in widespread ad campaigns.
Instead, local marketing holds the key to successfully promoting a small business on a small business budget. Here are the biggest reasons that you should use local marketing for your company.
LOCAL MARKETING SAVES MONEY.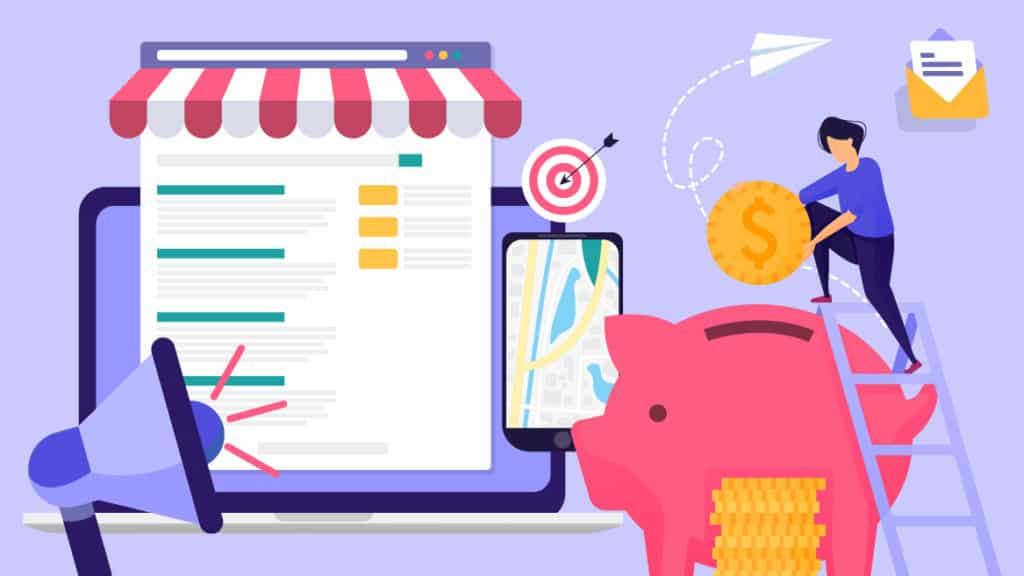 Small businesses are almost universally short on marketing dollars. One survey found that 70 percent of the 1,000 small businesses interviewed spent less than $500 a month on advertising. That breaks down to 1 or 2 ad spots on a national cable channel (If you're lucky).
That $500 goes quite a bit farther when it comes to local marketing. Many local business marketing strategies are quite affordable, or even free. You can, for example, run a Facebook ad targeted to your area for as little as $10.
Spending less money to get more advertising means you get more value out of your marketing expenditures. That is a smart marketing move, made possible by local advertising options.
LOCAL MARKETING REACHES THE RIGHT CONSUMERS.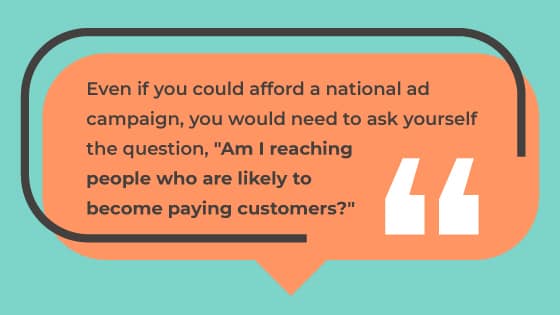 Even if you could afford a national ad campaign, you would need to ask yourself the question, "Am I reaching people who are likely to become paying customers?"
For most small businesses, the answer will be no. Consumers don't often travel far to get their needs met. Consider these statistics:
46 percent of all searches on Google are looking for local information.
72 percent of consumers do not travel farther than 5 miles after completing a local search.
Searches that include the words "Near me" and "close by" have increased 900 percent in the last two years.
Consider your own approach to shopping. When you need a new suit for an upcoming wedding, do you drive 2 hours away or do you look for a shop close to home? When you need to have that suit tailored, do you look for a location 150 miles away, or do you search for a reputable tailor in your neighborhood?
Your consumers are approaching their shopping in the same way. Local business marketing ensures that you get your business in front of consumers who live, work and vacation near your business.
When you get your business in front of a local audience, you get fast action from people who want what you have to offer. That can lead to a more profitable marketing campaign (and stretches those marketing dollars even further).
LOCAL STORE MARKETING PROVIDES A STRONG RETURN ON INVESTMENT.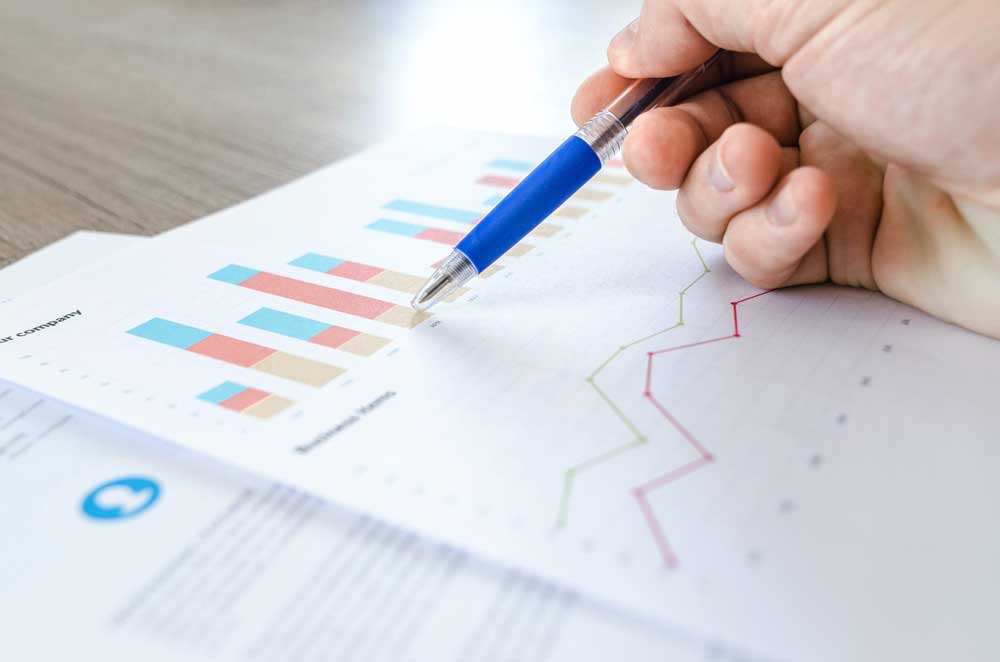 Your return on investment, or ROI, is the best indicator of your marketing success. ROI reflects the amount of profit you made above and beyond the amount of money you spent. The higher the ROI, the better.
Local marketing contributes to a strong ROI for two reasons (1 It is affordable, which lowers your cost of investment and (2 It targets people who are likely to convert, which increases your profits. Higher profits + lower cost of investment = A higher ROI.
LOCAL MARKETING IMPROVES BRAND AWARENESS AND LOYALTY.
By making sure that the people around you know about your business and what it can offer them, local marketing drives consumers to your company.
Even within your immediate community, you need to do some work to differentiate yourself from the competition. Your company's unique qualities are what will convince consumers to buy from you.
Small business local marketing gives you the opportunity to highlight those qualities. Does your car dealership offer a no-interest finance period? Take out Facebook and Google Ads to let people know. Does your restaurant only use locally sourced and organic meats? Write a blog post about it.
Local marketing also allows you to reach a larger audience. By marketing yourself within your desired geographic area, you don't just reach the people who happen to walk by your store. You reach a wider audience, which helps to make your brand better known.
LOCAL MARKETING DRIVES LOCAL PARTNERSHIPS.
No business exists within a vacuum. As a member of your community, your business plays an important role in the health of that community.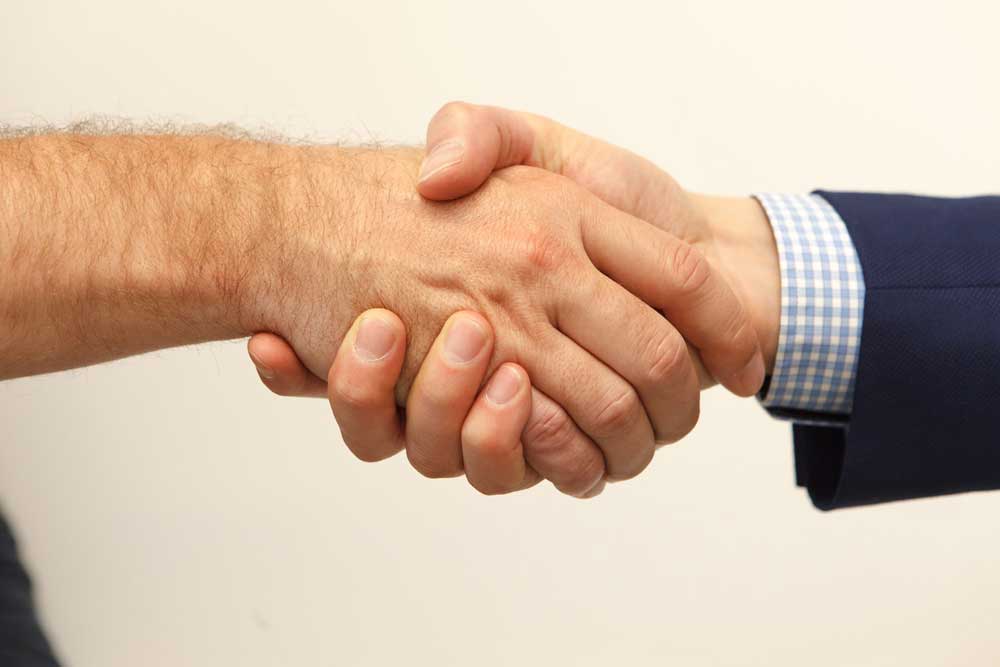 Meaningful partnerships with other relevant local businesses and community organizations can strengthen both your community and your business.
For example, a thrift store might donate a certain portion of sales to the local food bank. A spa and a hair salon might get together to offer pampering packages for Mother's Day. A dance studio may sponsor a youth sports team.
Local marketing helps you to forge these relationships. Creating and then promoting these partnerships allows you to show the community how well you work together with other organizations and can build goodwill that is good for your business, too.
Local Marketing Strategies
Businesses that want to reach their local communities have an abundance of strategies from which to choose. That is good news. It means that any small business can choose an approach tailored to their specific marketing needs.
The most common strategies for advertising within your local community can be broken down into non-digital, digital, and mobile approaches.
NON-DIGITAL LOCAL MARKETING STRATEGIES
While digital marketing is the new, and necessary, forefront of marketing, finding offline marketing activities to promote your business can be a valuable approach to your small business local marketing campaign.
Community Involvement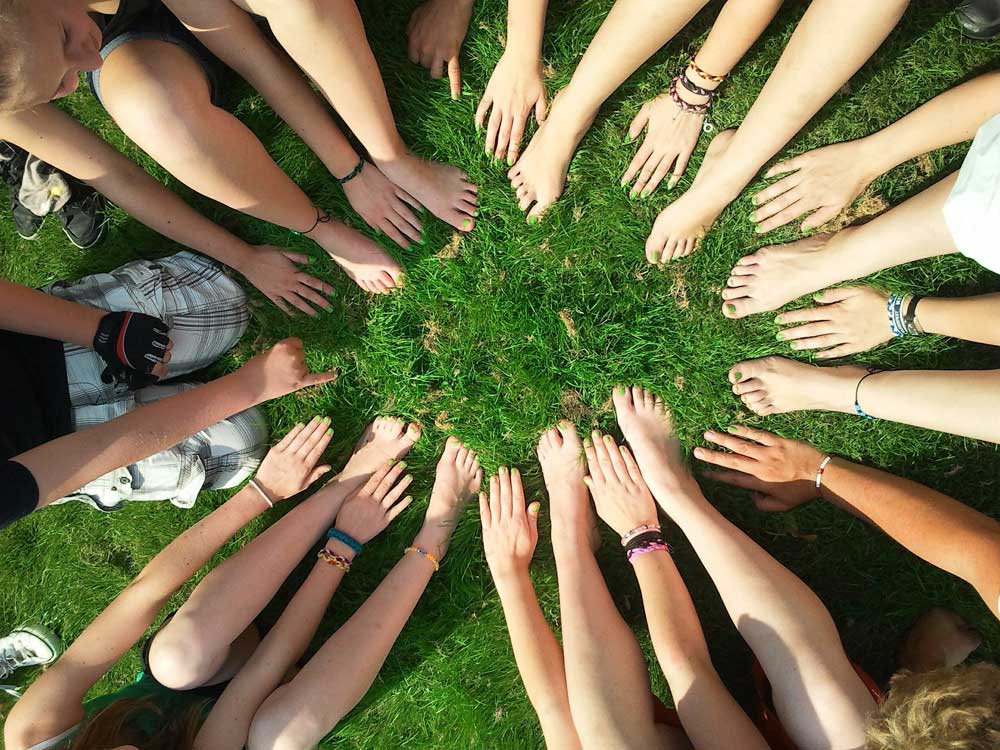 As mentioned above, one of the reasons that small businesses are a valuable part of their communities is because of their tendency to be involved in those communities.
That involvement isn't just good for your community. It is good for your local store marketing efforts, too. Every time you participate locally, you create greater brand awareness and goodwill among your target audiences.
Here are a few ideas for supporting your town or city, and getting your business name out there at the same time:
Sponsor an event
Sponsor a local sports team, whether youth or adult
Buy a booth at a local event
Contribute to a local fundraiser or nonprofit
Partner with other local businesses to offer events and deals
Join a local council or board (i.e. Business Board, Arts Council, etc.)
Volunteer locally
However you choose to get involved with your community, make sure that your involvement matches your company's mission and vision (i.e. Don't join an arts council unless your business has something to do with the arts).
And participate because you want to support your community, not just because you want to promote your business. Genuine support and love for your local area will speak volumes.
Use local media to your advantage.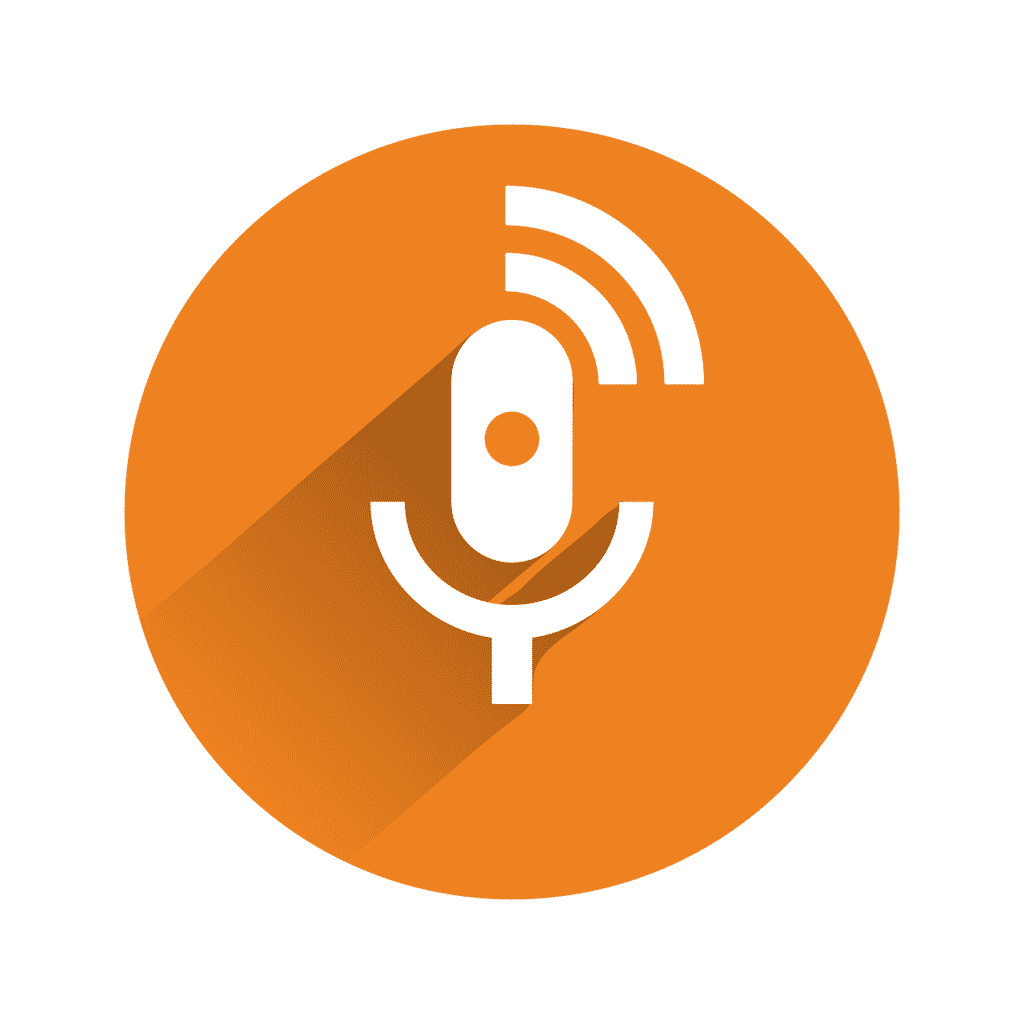 Advertising your business on regional or national media is probably outside your budget. However, buying marketing space on your local radio or television stations or your local paper can be affordable and allow you to reach a target audience that might not necessarily see you online.
Try to go beyond simply purchasing ads on these media channels. Instead, focus on building meaningful relationships that could lead to even better marketing opportunities, like guest speaking spots, guest editorials, or mentions of your special events and promotions.
Try these strategies to create strong relationships with your local media:
Find the right person to handle your advertising and business requests.
Pitch relevant story ideas.
Offer exclusive scoops and tips.
Do not be pushy.
Be available at a moment's notice.
Use signage.
Do not neglect signage around your store. Consider not just the signs on your store building. In addition, consider placing sandwich boards outside your store or investing in signage on street corners to boost awareness of your business among passersby.
Purchase billboard space.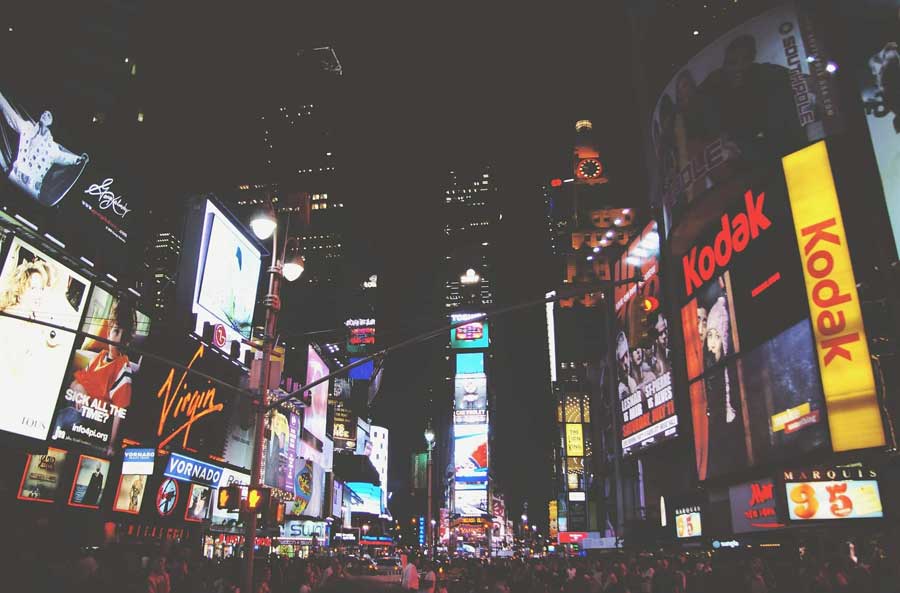 If you live in an area near major highways, chances are you have access to billboards where you can advertise your company. Billboards can be expensive, so follow these tips to get the most out of your investment:
Choose billboards in high-traffic areas to reach the greatest possible number of people.
Create a strong visual impact.
Keep your message laser focused on your main point.
Make sure your business name is immediately visible.
Create printed materials.
Printed materials are a physical way for you to promote your local business. These materials are valuable because people can hold onto them for future reference.
Consider using these printed forms of local marketing:
Flyers you hand out door-to-door
Informational brochures you place in your store
Product brochures for local B2B businesses to provide potential customers
Printed menus consumers can refer to before entering your restaurant
Printed newsletters, flyers, letters, and other materials you can snail mail
Business cards to hand out to potential customers
Put out a suggestion box.
A suggestion box won't necessarily get your business in front of people who aren't otherwise entering your store. It will, however, give you a way to connect with consumers and allow them to offer feedback on their experience in your store.
Check your suggestion box regularly. If you notice complaints or suggestions for improvements, follow up so your customers know you take their input seriously.
That kind of responsiveness can improve your business, make it more appealing to your target audience, and improve the word of mouth advertising that can drive new customers into your store.
DIGITAL LOCAL MARKETING STRATEGIES
Non-digital strategies should only be one part of your approach to small business local marketing. Digital marketing is here to stay, and small businesses that want to succeed need to be online.
Here are some of the best digital approaches to local marketing that you may want to consider adopting.
Engage in local SEO
Local SEO, as mentioned above, is a set of strategies intended to promote your business in the local search results.
For example, local SEO might help your pet grooming business to rank on the first page of Google for "pet grooming near me."
Earning rankings on the first page of local search results significantly increases the chances that people will click on your business' website.
For example, almost 48 percent of clicks in local search rankings go to the first three links. Links lower than the 6th position earn less than 2 percent of the click each.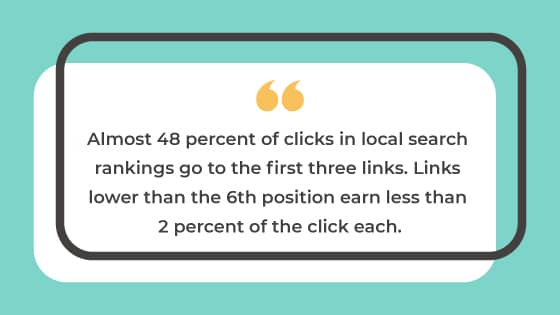 Getting your website to rank favorably in local search results requires a few focused strategies.
Optimize your website for your location.
Create local landing pages.
Optimize content for local keywords.
Ask for reviews on review sites like Yelp.
Claim your business listings on places like Google My Business.
Many of these strategies, like making sure your address is in your contact information on every page, are easy and only take a few minutes. The benefits to your business, however, can be significant.
Use local web design.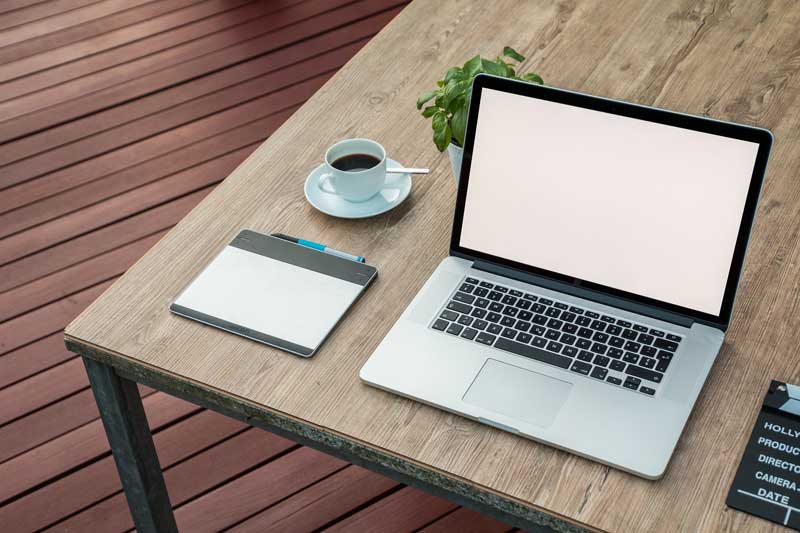 The way in which you design your website can contribute to your local small business marketing campaign. Focus on creating a website that emphasizes your location in order to appeal to individuals who live, work, and vacation within your area.
There are many steps you can take to create a website that targets local consumers. Here are some of the strategies to consider adopting:
Include your location in all of your contact information on every page.
Use your location name in your content, captions, alt text, URLs, and other text.
Emphasize your location on your homepage.
Create local landing pages for all of your locations.
Add local data schema to your webpages.
Include testimonials from local customers.
For example, Indiana web design for an Indiana-based location might include references to Indiana, the Indiana town in which the business is located, the Indiana address of the business, and testimonials from Indiana customers.
A local web design will clearly communicate your location, not just to search engines so you rank better in the search results, but to potential consumers who can then come to your business and buy from you.
Target your paid ads.
Hopefully, you are running paid online ads (you are, aren't you?). Ads through Google Ads, Facebook, or other social media channels allow you to reach a wide audience for a very affordable price.
One of the benefits of these paid ads is the ability to target them to specific audiences. Use that functionality to reach audiences in your local area.
For example, you can limit most paid ads to a specific country, region, area, or town. Your ads will only appear to people who are within that area or who are using search terms related to that area.
While you may choose to use additional parameters to target your ads, you should start with location. Using location targeting, also known as geo-targeting, ensures that your ads show up in front of people who are close enough to and motivated enough to engage with your business.
Use Google local inventory ads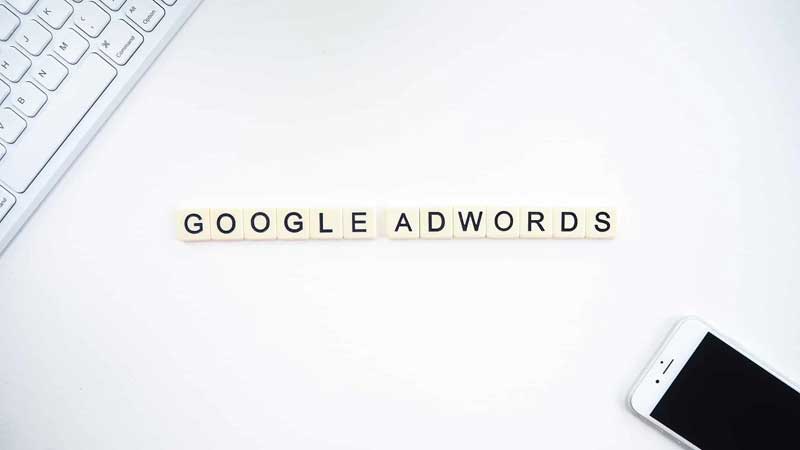 Most businesses are at least somewhat familiar with Google Ads. Less familiar but maybe even more effective are Google local inventory ads.
These ads showcase specific products for users looking for those products and services on Google. Once users click on the ad, Google takes them to a store page where they can shop for those products and learn other information about the store.
These ads provide a way to direct shoppers toward the specific products and services they need that you offer and they give shoppers an easy way to find their way to your store to make the purchase.
Localize your social media presence.
Social media is a powerful way to connect with your target audience in a personal way. It is in a very real sense, community marketing, where you create a meaningful community of individuals and work with and among them to meet their needs and promote your business.
One way to improve upon your social media and community marketing strategy is to localize your social media presence.
Localizing your social media presence means adding references to your location throughout your business page and posts. You may
Tag locations on your posts
Add local keywords to your posts and profiles
Add location to your LinkedIn bios
Add location to your tweets
Use your location in posts and captions
Localizing your social media helps people understand where your business is located and helps search engines rank you more accurately in the local search results.
Claim your business listings.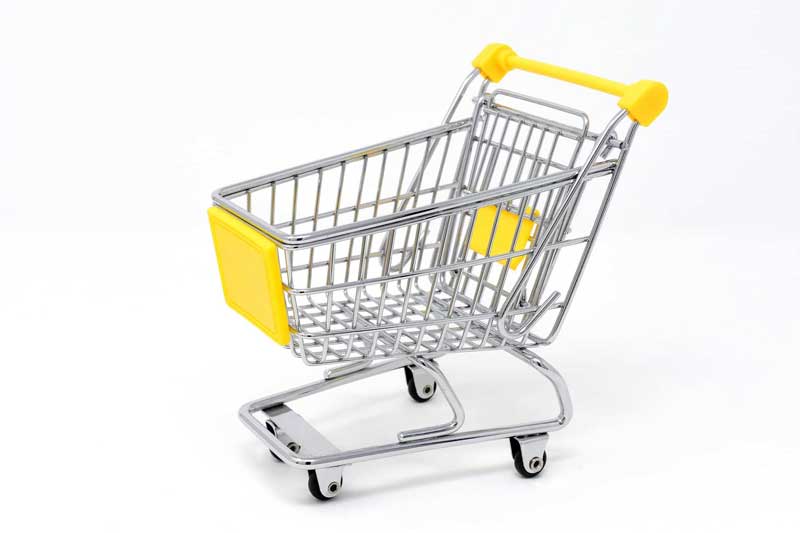 Even in the absence of a larger local SEO campaign, claiming your listings in places like Google My Business is a smart local store marketing move. By doing so, you achieve the following benefits for your business:
You ensure the accuracy of your business information.
Once you claim your business listing, you can add and update data like your contact information, address, and hours of operation.
You earn trust from consumers.
Listings that are claimed and verified communicate to consumers that you are a legitimate and professional business they can trust.
You earn the ability to reply to reviews left on the listing.
Being able to reply to reviews gives you a way to build relationships with consumers, and deal with disgruntled customers before they can ruin your online reputation.
You earn more visibility for your brand.
Improved rankings in the search results, improved trust from consumers, and a wider online presence mean more local people see and like your brand.
To get started, try claiming your business listings on Google, Bing, Yahoo! And Yelp, though there are many other listings you can also look up and claim as you become more comfortable with the process and have more time.
Create local landing pages.
For businesses that have more than one location, landing pages for each location can help your business rank in the search results for each location. These pages also make it easier for consumers to find and engage with the location nearest to them.
Earn, and manage, online reviews.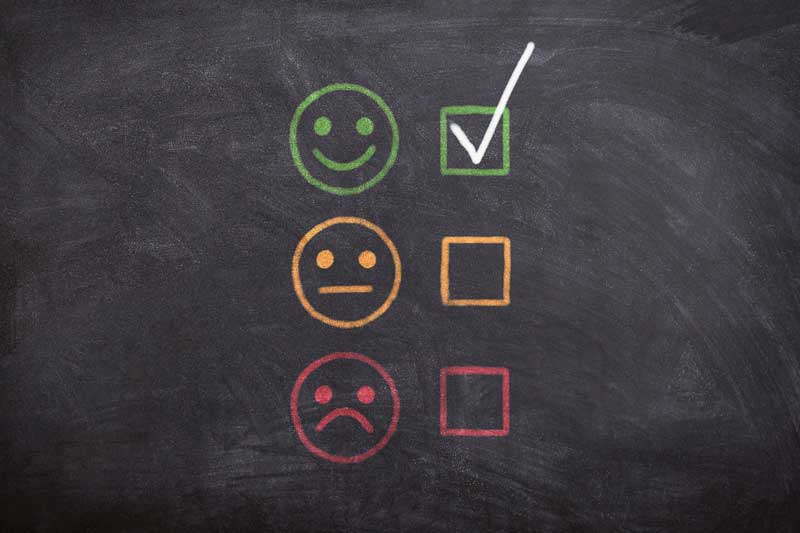 Did you know that, according to one survey, 82 percent of consumers read reviews before they make a purchasing decision? You need positive online reviews to get attention for your local business.
You cannot, and should not ever, pay for reviews. However, encouraging customers to leave reviews for your business, and placing testimonials from local customers on your website, can earn you the positive third party support you need as a local business.
Make sure to keep track of your online reviews and respond promptly to negative ones. Places to look for these reviews include:
Google
Yelp
Social media
Amazon
Better Business Bureau
TripAdvisor
Anywhere you have an online business listing
MOBILE LOCAL MARKETING STRATEGIES
More than 70 percent of all online traffic occurs on a mobile device. Clearly, doing mobile-focused local business marketing is important.
Consider adopting some of these local marketing options for more effective local marketing on mobile devices.
Make your website mobile-responsive.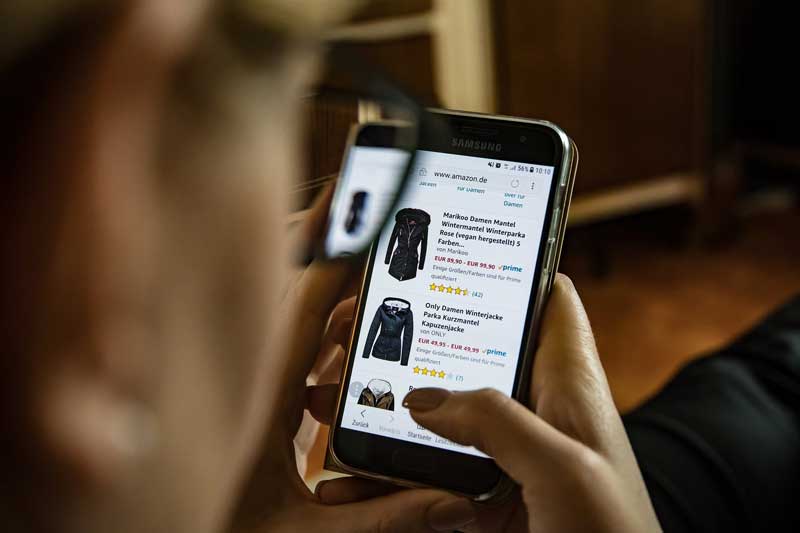 This is actually a good idea for any type of marketing, including small business local marketing. Create a website that is easy to use on mobile devices.
Doing so caters to the vast majority of people who prefer to use smart devices to shop and research online, which will make your business easier to find and engage with.
Create a customer loyalty program.
Customer loyalty programs are a good way to reward shoppers for making your business one of their preferred shopping destinations. They are a wonderful way to connect with local customers who are the ones most likely to be repeat shoppers.
You can make these loyalty programs more appealing for local consumers by offering discounts and rewards especially for local customers.
Make these programs available through mobile devices for ease of use. Creating or using apps let's customers quickly access and participate in the program and all of its benefits on the go.
Engage in geofencing.
Targeting your paid ads to specific locations is a smart local marketing strategy. However, when it comes to mobile local marketing, location targeting can be even more specific and effective.
Called geofencing, this targeting strategy entails creating a virtual fence around certain geographic areas. Once consumers who have your company's app enter that area, they are immediately sent a notification, usually with a discount or some kind of promotion.
This strategy encourages people within your vicinity to visit your store and can drive more spur-of-the-moment customers to your company. Typically, it will work better for local B2C companies than for local B2B companies, whose customers do not generally just appear within the vicinity of the store.
How Can A Local Marketing Agency Help?
If you are looking for a way to create and implement a local marketing campaign, you may benefit from the assistance of a local marketing agency.
Local marketing agencies offer advantages that larger, national agencies do not. Consider the following:
A local digital marketing agency is invested in the same community you are.
A local marketing agency will care as. much about your community as you do because they live and work in that community themselves. They can create a local campaign that is personalized to your location and its unique needs.
A local digital marketing agency facilitates in-person communication.
Sometimes, you just need to talk to someone face-to-face. A local digital marketing agency makes in-person communication both possible and easy.
A local digital marketing agency can leverage local connections.
A local digital marketing agency can use their local local connections to benefit your business and your local digital marketing campaign?
A local digital marketing agency provides a fast response time.
Sometimes, you need to hear from your digital marketing agency urgently. Your website is down. A local digital marketing agency can generally respond quickly to any problems you have so you can resolve them more quickly.
Conclusion
Local marketing holds a great deal of potential for small businesses that want to grow their brand awareness and business within their communities. With many strategies from which to choose, local marketing offers businesses the opportunity to tailor their campaigns to their budgets and their unique business needs. With the right campaign, you can build a more productive, profitable, and beneficial presence within your own community.