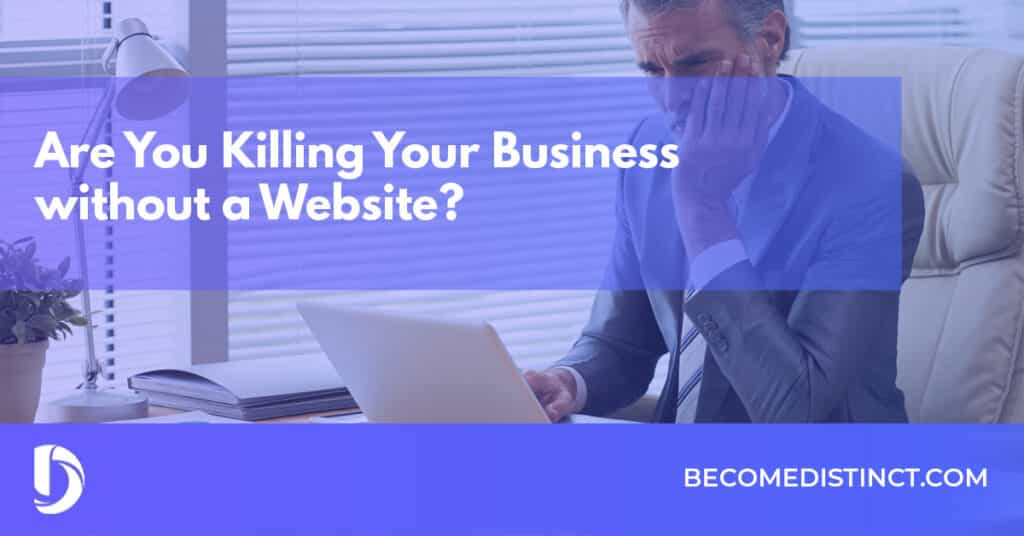 Do you have a business and not a website? You're not alone. According to the Small Business Administration (SBA), in 2019, 36% of small businesses lack a website.
There are many reasons why businesses avoid investing in their own websites. One of the most common is that the company simply does not need more customers.
Before you decide to bypass a website altogether, however, you should know that a website can support your business whether or not you need new customers. Here is a look at why you should consider building out a website now, before you "need" it for business growth.
A website now builds a foundation for future success.
You may not need an online presence right now, but today is the day to start if you want a successful website in the future.
The reality is that it takes time for your website to become successful. You cannot simply build and launch a website one day, and expect to attract visitors the next. Your website, like your business, needs time to grow.
In particular, search engines like Google need time to index your website. That means that the search engine needs time to find your site, read and evaluate all the content, and begin to show it in the search results for search terms that are relevant to your business.
This process can take up to a month, but that isn't the end of your journey toward visibility and success online. You also need to allow time for consumers to discover your website, trust your business, and share your site with others.
Once brand awareness and customer relationships begin to thrive, your website will begin to thrive as well. It can take months of steady work to begin attracting a steady stream of visitors after you launch your site.
If you anticipate needing a website in the future, then you should build it now. By the time you are "ready" for the benefits of an active and successful website, your online presence will be ready to meet your needs.
Your domain needs time to build authority.
Having an online presence is not enough to earn favorable search rankings or interested website visitors. Your domain needs to have authority–That means that search engines and consumers need to view your website as trustworthy and be willing to use it and recommend it to others.
The process of building that authority takes time. For example, Google wants to showcase the websites that have been around the longest in the search results whenever possible. In the search engine's eyes, a new website is questionable no matter how long you have been in business.
In order to gain credibility, your business needs to spend time online. You need to start your website now and maintain an active, relevant, engaging presence online over a long period of time.
Do not just build your website and leave it, however. Search engines and consumers value, and trust, a website that remains fresh and active. Add landing pages and product pages. Create blog content and articles. Establish yourself as a trustworthy and experienced source in your field. Eventually, your website will begin to bear fruit in the form of visitors and conversions, but patience and time are key.
Use your website to build a list of interested people.
You may not need customers right now, but you do rely on an ongoing and steady stream of customers to succeed in your business. You need to have customers ready to engage with your business both now and in the future.
You can keep those customers coming by using your website to garner interest and build lists of potential customers right now, before you ever need them to start making purchases.
How do you do that? Here are a few ideas:
Encourage subscriptions to emails, newsletters, podcasts, or other resources.
Build a relevant and engaging blog to keep people thinking about your brand.
Showcase products and services that consumers need and want.
Tell the story of your business to create a connection with potential customers.
Showcase your company's unique brand and selling proposition.
What is the harm in having people interested in your business when you are ready for new customers? The more potential leads you have, the better prepared you are to enjoy growth and success not just now, but in the future. A website can help you do that.
If you are not currently ready for growth, that doesn't mean your business can't have a website. You don't need to be actively looking to grow in order to reap the benefits of having an online presence.
Instead, building an online presence now can make it easier to attract visitors, leads, and customers when you are ready to grow as a business. Here at Distinct, we can help. We will connect you with a local marketing advisor and skilled website designers who will customize a website and an online presence that is as unique as your business.
When you are ready to grow, your website, and Distinct, will be there to help every step of the way. No matter where you are at in life right now, whether just starting out or scaling up, every business needs a website! Let us help you build yours!