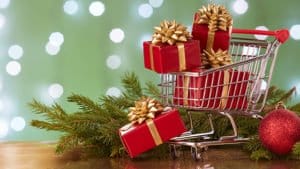 This year, the biggest day of the year for small businesses falls on Saturday, November 30. Otherwise known as Small Business Saturday, it offers consumers a reminder to shop small and local. In 2018, the message delivered almost $18 billion in sales in 2018.
Clearly, this is not an event you want your small business to miss. Getting word out about your participation means acting now and leveraging some creative business advertising ideas. Here are some of our favorites.
Start using a Small Business Saturday hashtag.
If you engage in social media marketing at all, now is the time to start using relevant hashtags for your Small Business Saturday promotions.
The hashtags you need to use are #SmallBusinessSaturday and #ShopSmall. Using them throughout your social media is an easy way to direct attention to your Small Business Saturday plans.
Pair these hashtags with information about your Small Business Saturday promotions to start generating excitement around the day before it even begins.
Develop Small Business Saturday promotions.
Speaking of Small Business Saturday promotions, your business advertising needs to include at least one or two of them. Think of them as holiday gifts for your customers. You are spreading the holiday cheer by offering special discounts and items to your store visitors.
Those promotions are also going to entice visitors into your store and onto your website. What kinds of promotions should you offer? Consider any of the following ideas, or come up with one that works better for your business:
Free gift with purchase

Special event, like photos with Santa

Discounts off the store or select items

Free shipping

Charitable contributions to a local nonprofit
Whatever you choose, make it fun and exciting. All of your business advertising leading up to the big day should talk about these promotions so that, when the day comes, you have happy customers lined up waiting to buy from you.
Turn your typical business advertising into holiday advertising.
Business advertising around Small Business Saturday doesn't have to include new campaigns and advertising channels. If you plan it right, you can use your current marketing channels to advertise for Small Business Saturday.
Take Google Ads, for example. Create a new set of ads to promote your special deals and Small Business Saturday participation. If you use social media marketing, start creating posts and tweets and images about your upcoming participation. Place your promotions on the homepage of your website. Take advantage of what you already have in place for some impactful business advertising around the big day.
Tell your small business's story.
People love a good story. If they connect with yours, they will be more likely to buy from you, and to become loyal, repeat customers. Foster a sense of connection with your customers by sharing your small business's story through your business advertising.
Focus this story on what makes your small business unique. Share a video touring a farm where your farm stand veggies are grown. Write an ad about overcoming adversity. Share a blog post about why you chose your specific community to establish your small business. Let people get to know you through your business advertising so come Small Business Saturday they will be ready and willing to buy from you.
Create special Small Business Saturday events.
Small Business Saturday is a special opportunity to celebrate small businesses. Make the day special for your business and your customers by creating events for that day.
For example, consider partnering with other businesses to create a street fair or combined discounts. Bring in hot chocolate, Santa and Mrs. Claus, Christmas cookies or tree decorating.
Then, make sure to promote those events alongside your deals and discounts in your business advertising. If Small Business Saturday is fun, more people will want to participate.
Target relevant keywords.
If you are running a search engine optimization campaign or a Google AdWords campaign, it is time to update your keywords. Focus on search terms that are relevant to Small Business Saturday.
You may also want to focus on search terms that are relevant to any deals or discounts you are offering. Make sure people see your business when they think about Small Business Saturday.
Small Business Saturday is an exciting opportunity for small businesses of all kinds. Take advantage of its potential by creating business advertising focused on that day. Create promotions, advertise your promotions, make the day fun with special events, and use keywords and hashtags to let people know you are participating.
Don't forget to add reaching out to a digital marketing agency to your list. Here at Distinct Web Design, we offer a wide range of digital marketing services that allow you to build an online presence that will get you attention on Small Business Saturday and all year long.