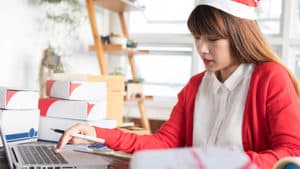 The holidays mean a huge profit potential from gift-focused consumers. You have to leverage ever channel possible to make the most of this season.
If you already have a Google advertising campaign running for your business, you can use it to boost holiday sales. Here are a few tips for focusing your Google advertising on the holidays.
Expand your target audience.
You know who your typical audience is for the majority of the year, but do you know who to target during the holidays? Chances are there are more people than you realize who are interested in your products and services in November and December.
For example, your craft beer might appeal to a certain group of customers. Come November, though, it might also appeal to those customers' spouses, children, friends, and family, who want to buy your beer as a gift for their loved one.
Use your Google advertising to get your business in front of these gift getters by expanding your target audiences. By adjusting your targeting to reach the gift givers, you increase your chances of making some pretty sweet holiday sales in the next month and a half.
Create urgent ad copy.
Gift buying during the holidays comes with some built-in deadlines. Take advantage of these deadlines and create a sense of urgency in your ad copy. Customers are more likely to act quickly on an appealing dealer that great gift idea if they know they don't have a lot of time to spend making their decision. Here are a few ways to add urgency to your Google advertising ad copy:
Create countdowns (i.e. 2 days left for free shipping).

Put an expiration date on deals.

Remind consumers of the nearness of the holidays.

Offer incentives to act quickly (i.e. "Extra 10 percent off if you buy today").
Promote holiday deals.
If you are offering deals or special events during the holidays, now is the time to promote them with your Google advertising. Those deals are meant to attract customers. They can only do so if potential customers see those deals.
Making them a central part of your Google ads gets them in front of your target audience. Start creating ads focused on the deals and events you have going on this holiday season.
Use data from last year.
If this isn't your first year using Google advertising, you should have a treasure trove of information from last year's holiday season. Use it to your advantage this year. Here is some of the information you should have on hand:
Images that worked best

Deals that worked best

Audiences that responded well

Messages and ads that earned the most click throughs

Items that were the most popular

Responsive locations and other demographics

Areas that did not perform well
Use this data to inform this year's holiday Google Ads. For example, if a particular deal was popular, there is no need to reinvent the wheel. Run the deal again. If certain audiences responded well, target them again.
You don't have to limit your Google advertising to what worked last year. You should, however, incorporate your past successes into your current campaign.
Ease online shopping concerns.
When it comes to online shopping, customers have two major concerns: Shipping costs and returns. These two obstacles are often what drive customers to forgo online purchases. They do not want to pay shipping costs, and they do not want to deal with expensive and complicated return processes.
Use your Google advertising to ease both of these concerns. Offer free shipping, and tell customers about that offer with your Google ads. Offer a free return policy; make the return window extra long, and/or allow returns in your brick-and-mortar store. Then, promote these advantages with Google advertising.
Google advertising around the holidays is an exciting opportunity to drive sales and profits during the busiest shopping season of the year. You can take advantage of this opportunity by using your Google ads the right way. Try expanding your target audience, creating urgent ad copy, promoting holiday deals, using data from last year, and easing online shopping concerns.
Also try hiring a Google Partner like Distinct Web Design to help you create an effective holiday Google Ads campaign. We can work with you to make sure you and your business stand out this holiday season.