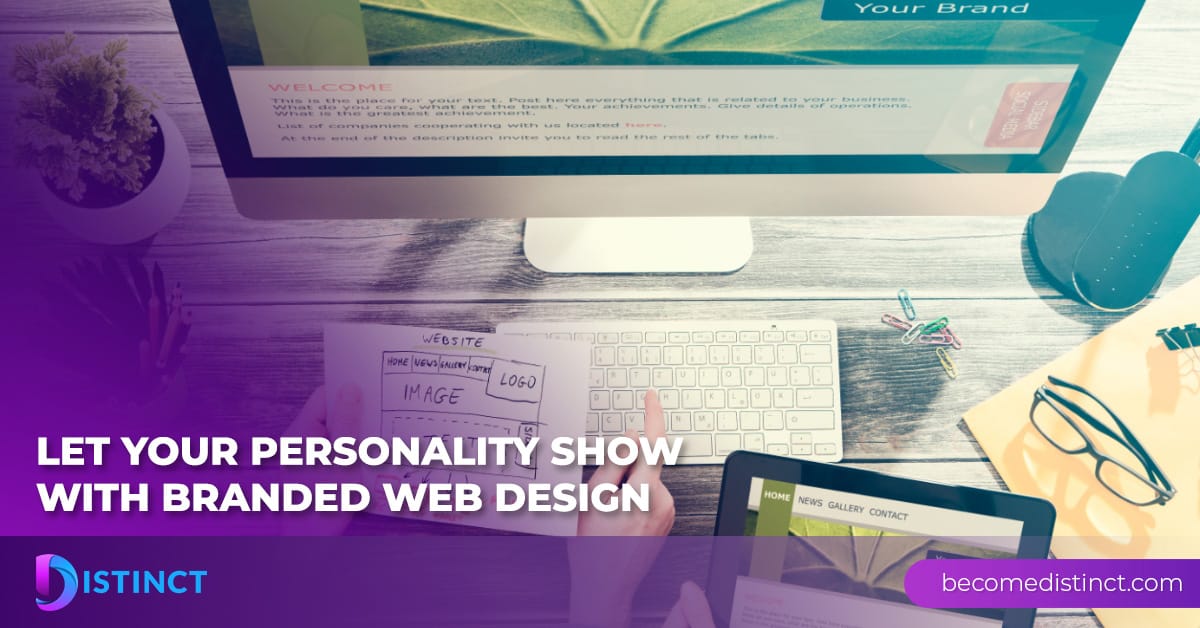 A branded website is a successful website–Presenting your unique values, products, services, benefits, and personality to website visitors is much more likely to capture their attention. Why? Because branding helps you stand out from your competitors.
While you should incorporate branding into every aspect of your marketing, a good place to start is your website. As the online representation of your business, your website should instantly tell consumers what you offer, what you do, and whether your business might be a good fit for them.
Fortunately, you have many options for incorporating branding into your web design. Here are a few ideas for standing out from the crowd in your online space.
Consistency
Your brand personality needs to be the same throughout your site. Consumers are looking for a company they can trust, and consistency is key to showing them that they can rely on you.
Every element of your website, from your logo to your font, your images to your content, needs to send the same message to consumers. That means taking steps such as the following:
Using the same fonts and colors across your entire website.
Keeping images consistent with each other.
Incorporating the same tone of voice throughout.
Placing logos, contact information, search bar, and other elements in the same position on every page.
In addition, you need to create consistency with all of your other marketing efforts. For example, your website needs to be consistent in design and messaging to your social media pages, your print advertisements, your Google Ads, and even your online directory listings.
Consumers feel more confident about your business if they see the same branding no matter where they encounter you online because it makes them feel that they can trust you to deliver consistently great products and services to meet their needs.
Colors
If you have a logo, you probably also have a color palette for your brand–A set of specific colors that, when used together, communicate your brand values to consumers.
Colors are one of the first things visitors notice when landing on your website. Make sure you deliver the colors they expect and create a positive brand reputation and positive associations with those colors.
For example, you may associate a combination of red and green with warm fires, family time, love, or religious significance, thanks to the fact that those colors are associated with Christmas.
Similarly, as people interact with your company, they will begin to associate certain experiences and feelings with your brand colors–Do it right, and those associations can be strong enough to generate sales, trust, and loyalty from consumers.
Fonts
Consistency in your web design and branding requires you to limit the number of fonts you use on your site. Too many fonts can make your business appear inconsistent or confusing, and can lead to frustration for your consumers.
In order to appropriately brand your website, try choosing 2-3 fonts to use. Then, use those fonts consistently throughout your site.
When choosing your fonts, consider what they communicate about your brand. A flowery font, for example, may not be appropriate for a financial institution, while a more creative font may be appropriate for an art studio.
If you use a certain font in your logo, you may want to incorporate that font into other areas of your website as well. Just make sure that, whichever font you choose, it is clear and easy to read so consumers can quickly understand your messaging.
Spacing
You may not think about whitespace as a statement of your business personality, but the way in which you separate your website elements can say a lot about your company.
For example, if you incorporate many images, unpredictable placements, or little white space, you may communicate a more laid back or creative personality. Just make sure you don't go overboard and create a cluttered site that is confusing to read.
On the other hand, a cleaner layout and simpler graphics may communicate a more sedate or professional demeanor. Just make sure you keep your design engaging as well.
The right spacing and placement of website elements allows you to tell consumers more about your company, your goals, and your personality so they can proceed more confidently in their interactions with your business.
Tone of Voice
Your tone of voice tells people a lot when you are speaking face-to-face. The same is true about the tone of your website content. The words you choose, and the phrasing you adopt, will tell your consumers quite a bit about who you are as a business.
That is why you should strive to adopt a tone of voice that is natural for your business. There is no right or wrong way to do this. You can be silly or serious, fun or solemn, professional or casual.
The key is to ensure that your tone of voice resonates with your brand and your target audiences, and that you keep it consistent throughout your site.
In addition, make sure your tone of voice communicates the benefits consumers will experience from interacting with your business-What are your unique selling propositions? What do consumers need from you? Make sure your content reflects your knowledge of your business and of your target audience.
Your tone will influence more than just your blog posts. It will also affect the approach you take to things such as the following:
Landing pages
Image captions
Headers and Footers
Contact Page
And more
Set the right tone with a voice that sets your business apart and appeals to your target audiences. Then, keep it consistent throughout all of your content, from website to marketing to social media.
If you can successfully incorporate your brand into your web design, your website will feel like a conversation with your consumers. They will get to know you well as they browse your site, and they will hopefully like what they see so much that they choose to engage further with your business.

If you need help crafting a branded and powerful website, reach out to Distinct today. We provide specialized services that allow your small business to craft an online presence that reflects your true personality to your target audiences. Contact us today to learn more!