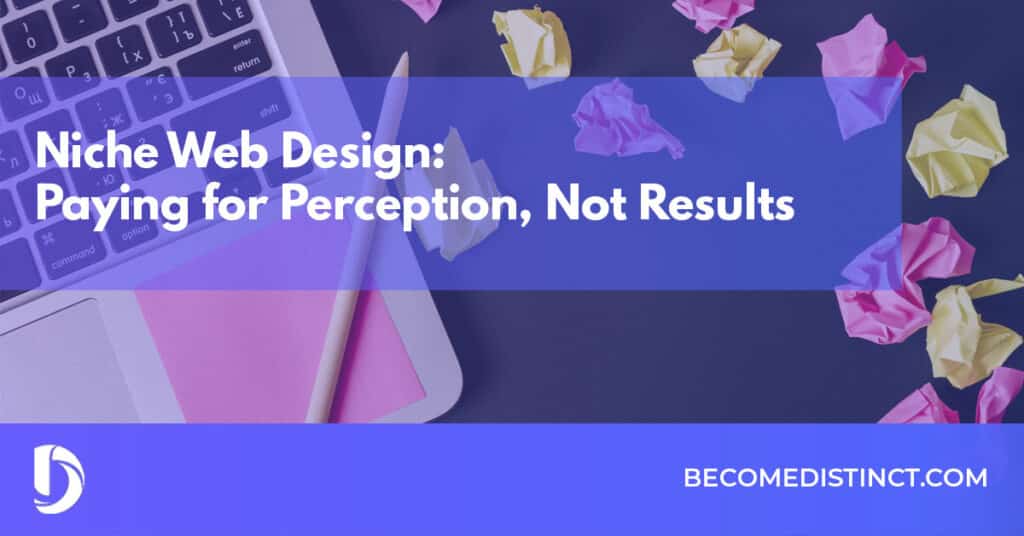 Specialization is important in many of the services we use. You need a neurosurgeon to work on your brain, and you need an orthopedic physical therapist to help you recover from back surgery. You will need a landscaper for your yard and an interior designer to redecorate your master suite.
That is why many businesses seek out a specialized web designer when they are ready to build or redesign their sites. In their minds, specialization = better when it comes to professional web design.
The reality, however, is that niche web design is a great idea for website designers who want to drive up their prices and market themselves as industry experts, but it ultimately does not deliver the results businesses need.
What follows is an in-depth look at niche web design, what it promises to small businesses looking to boost their marketing, what it delivers, and what could be a better solution.
Niche Web Design: The Promises
Businesses often gravitate toward web designers who only create websites in a specific industry. For example, a physical therapist may choose a web designer who only creates physical therapy websites.
In our experience talking with hundreds of small businesses, there are some specific reasons that business owners choose niche website designers.
Niche website designers have industry-specific experience.
Working with someone who understands your industry is very appealing. If a web designer has created 100 websites about physical therapy, you can be sure they understand what your target audiences need to see in terms of layout, graphics, navigation, and even content.
The assumption is that this expertise will have one very beneficial result: Better website performance.
In particular, small businesses expect the niche designer to deliver a site that produces (1 More website traffic and (2 More leads.
The promise of a better bottom line is very difficult to resist. No wonder many businesses choose niche web designers to work on their sites.
Niche website designers provide industry-specific tools.
The needs of small businesses can vary depending upon their industry. An accountant, for example, may need a secure client portal, while a photographer may need an easy way to display their portfolio online.
Many businesses choose a niche website designer because that professional promises them access to industry-specific tools that boost their website's performance.
They want to ensure that they receive a customized patient or client portal, top-of-the-line security, an intuitive navigation, an online portfolio, a live chat feature, or more.
By accessing these tools, businesses generally want to (1 Create a more customized website and (2 Improve the user experience on their site.
By using tools developed specifically for their industry, businesses hope to achieve these goals in a way that they feel is impossible by using a general web design firm.
Niche web designers can produce industry-specific content.
Content is critical to the success of any website. Fresh, relevant content boosts SEO performance, builds brand awareness, attracts website visitors, encourages longer on-page visits, and drives leads and conversions.
Creating that content, however, isn't always easy. Small businesses often lack the time and expertise needed to build a blog, run an active social media account, or even update their product pages.
Enter niche web designers, who often promise to create this content for their clients. Not only do these design firms free up time for their clients, but they produce industry-specific material that resonates with the company's target audiences.
Expert content produced specifically for your business is an invaluable aspect of building your website and your online presence. Niche web designers who can provide this content offer a comprehensive service that can be hard to refuse.
Niche Web Design: The Results
If niche web design firms delivered on their promises, they might very well make a smarter choice than other professional web development companies. The reality, however, is that industry-specific web design has drawbacks that can harm, not help, a small business.
Niche web design is often not customized.
While niche web design promises to deliver a website that caters to your specific audience, it often fails to deliver a design that is specific to YOU.
Instead, many industry-focused firms use templates and patterns that are industry-specific but not business-specific.
That can give your website a look that is similar to many other websites in your niche, and that can make it hard for your business to stand out.

What makes your business better than your competitor? Why should a client choose you over a similar business the next town over? What makes you unique?
If your website designer cannot answer those questions with a creative and customized design, then you may not see the improved website traffic, leads, and conversions you want from your site.
Industry-specific content is often duplicated.
Firms that promise industry-specific content often make the same mistake when writing for your business. They may duplicate content that they provide to multiple clients.
Your blog post may be almost identical to a competitor's blog post. Your product descriptions may mimic another store's.
The problem with this practice is that it lessens the impact your content has on both search engines and consumers.
Search engines do not like encountering duplicate content and may rank you lower in the search results because of it. Your content could actually harm your online visibility, not improve it.
Clients who encounter duplicate content will also come away with a worse impression of your site. At best, they will wonder how you differ from the competition. At best, they may wonder if you are plagiarizing the competition.
Again, duplicate content can harm your brand reputation and website performance, not enhance it.
Niche web design does not improve website performance.
The goal of businesses who choose industry-specific website designers is to improve their website performance by receiving services and content customized to them.
Unfortunately, the results are often disappointing, thanks to templates and content that, while industry-specific, are not business-specific.
By making it difficult for you to stand out among other businesses in your niche, the niche website designers make it difficult to gain website visitors, leads, and conversions.
Niche web design can also affect your SEO (Your visibility in the search results), your content quality (Because of duplicate content), your brand reputation (Because your unique selling proposition is lost in the generic templates and content) and more.
You do not need a niche designer to create a website that works. You need a web development firm that can specialize in YOU: A small business with unique benefits to offer its community.
Niche Web Design: An Alternative
There is an alternative to choosing between industry-specific website designers, and generic web design businesses: Distinct.
As a digital marketing agency focused on small businesses, we are entirely committed to you. As a result, we focus on helping you to create web designs that meet your unique needs and promote your unique business within your community.
As a result, Distinct delivers these services to every one of our clients:
Dedicated Marketing Adviser
Every one of our clients enjoys access to a dedicated and local marketing adviser. This expert specializes in helping your business gain visibility and customers from within your community.
Your local marketing adviser will spend time getting to know you, your business, and your industry. The information they gather will inform our web design process, ensuring that you receive a customized site that is tailored to you.
As a result, we never use cookie cutter templates or generic information to build your website. We custom create designs, and a robust digital marketing strategy, based on the information you provide.
Customized Tools
Our dedication to a customized website includes the use of specialized tools, such as Google Workspace and Zoho, that make it easy to build customized solutions for our clients.
These tools make it possible for you to choose the services you need, enhance collaboration, access cloud computing, develop a robust CRM, and more so you can create an online presence that stands out from every one of your competitors.
With customized tools, you never have to worry about generic templates or looking like the other guy. Everything that makes your business special will show up in a vibrant website and online presence.
In addition, these tools make it simple to connect with your team at Distinct. When you can communicate seamlessly with your support team, you enjoy faster, more customized solutions and instant results. You won't get that anywhere else–not even with a niche website designer.
Unique Content
You do not need to use a niche web design firm to enjoy a steady stream of relevant and industry-specific content for your website (or social media accounts).
Here at Distinct, we can produce content tailored for your business and industry, and it is never duplicated. Every blog article, social media post, product description, and landing page is crafted for the first time for you.
With entirely unique content informed by your collaboration with our marketing adviser, you can enjoy engaged leads, more conversions, improved brand awareness, better SEO, a more active social media community, and more.
Distinct Web Design Services: The Benefits
Distinct provides you with customized support and services that allow your online presence to become about your business, not about your industry or your competitors.
What benefits does this specialized focus provide for you?
Improved Website Performance
Even niche web designers cannot create a successful website unless they focus on you. By creating a website that showcases the uniqueness, and appeal, of your brand, we measurably improve your website performance.
Along with a robust digital marketing strategy, you can enjoy the following benefits of a customized website from Distinct:
Greater brand awareness
Improved brand reputation
Increased website traffic
More leads
More conversions
Powerful Branding
With a customized website built through Distinct, you have an online space where your brand can shine.
No more hiding behind your competitors, industry cliches, or generic photos. Instead, you enjoy a website that showcases your brand in every image, color, word, and feature.
With powerful branding, website visitors recognize your brand and understand your business at just a single glance–and they want to learn more.
Engage your target audiences and begin to stand out in your community with a website that properly embraces your one-of-a-kind brand.
Affordability
Here at Distinct, we know the budgetary challenges small businesses face. In order to help you afford the online presence you deserve, we provide our services on an affordable scale.
By choosing only those services you need, and only the web design you require, you also save money, since you only pay for what you need.
Affordable web design and digital marketing make it possible for even small businesses to thrive within their local communities, meeting their business goals and winning over the respect, and business, of their target audiences.
Are you ready to embrace a website built just for you? Then don't embrace a web designer who is more focused on your industry than on you.
Choose Distinct, the digital marketing agency that is committed to making your small business shine. We will never use generic templates, duplicate content, or expensive packages to build your site.
Instead, our marketing advisors and customized approach help you choose the tools and features you need to meet your business goals. We would be happy to hear more about your needs and what we can do for you. Contact us today!