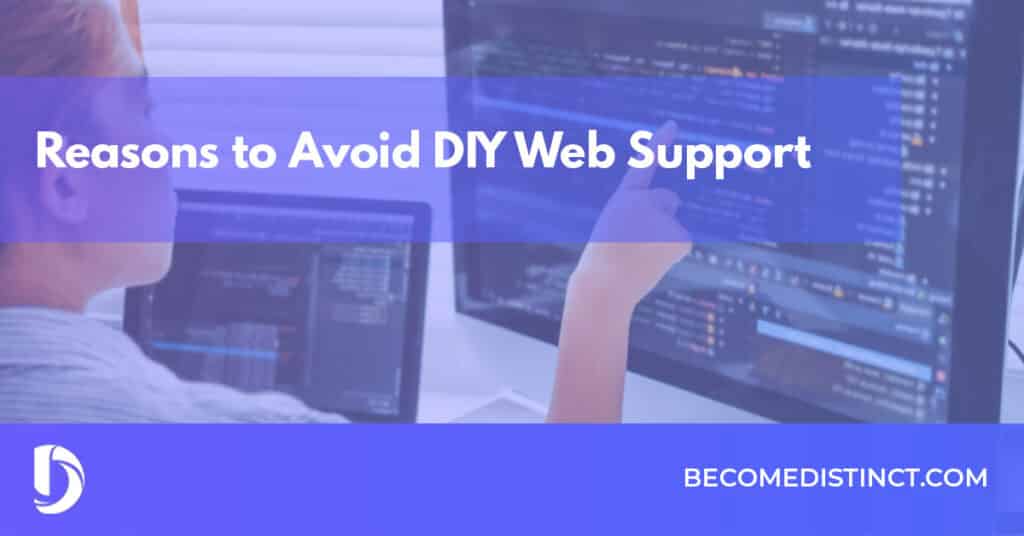 Small businesses often balk at the prospect of hiring ongoing support for their websites. Limited finances, especially after spending thousands building the site, can drive them to move their web support in-house.
DIY web support, however, has downsides that can actually cost businesses money in the long-run. Before committing to the upkeep of your website, consider these downsides and the possibility of hiring affordable, professional support instead.
DIY web support takes time away from your business.
Managing your own website takes time. You have to handle daily, weekly, monthly, and annual tasks, and because many of these tasks are security-related, you rarely have the option of ignoring them.
In addition, completing these tasks often includes a learning curve. From something as simple as implementing updates to your plugins to something as complex as learning code so you can fix an error page, simply learning the skills you need can consume hours of your time.
Time spent on your website is time spent away from running your business. Instead of neglecting the other aspects of your company in order to keep your website running, consider hiring professional web support.
Those professionals can complete your website maintenance quickly and efficiently, while freeing you up to focus on doing what you do best: Making your incredible company ever more successful.
DIY web support can create security issues.
Keeping your website, and especially your customers' sensitive data, secure is critical to a successful online business.
Unfortunately, small businesses are the target of 43 percent of all cyberattacks, costing them millions of dollars every year. Up to 60 percent of small businesses that suffer from a successful hacking attempt go out of business within 6 months.
Undertaking the maintenance of your website on your own places the responsibility of fending off these attacks solely on your shoulders. That means you have to stay on top of your SSl certification, plug in updates, WordPress updates, your password policy, file permissions, and more.
Too often, small businesses lack the expertise or the time to keep up with all of the security-related tasks their websites require. Neglecting these tasks, however, can have costly consequences for you and your customers.
Do not be the one caught unawares by a cyberattack. Hire professional website support services to manage your website security for you, so you can enjoy peace of mind and a truly secure site.
DIY web support can increase downtime.
If you are proactive in the maintenance of your website, your site is less likely to suffer from error pages, broken links, and downtime.
However, keeping up with your website maintenance yourself can be difficult and can lead to more downtime than if you had professional assistance.
In addition, you may also find it more difficult to get your website back up and running when you do encounter problems. It may take you longer to identify a problem, find the source of the issue, and repair it. You could find yourself spending hours fixing a problem, or even just learning the tasks necessary to address the problem.
Instead, hire professional web support services to help. Not only can they proactively monitor your site for issues, but they can quickly resolve a problem as soon as it arises. Since many of these businesses are available 24/7, you never have to wait to get your website running again.
DIY web support could lead to an outdated site.
Keeping your site running smoothly is important if you want to continue attracting and engaging visitors. However, the most successful small business websites go beyond simply functional and embrace a beautiful, modern design.
Since consumers will assume that you are as professional as your site, you need to keep up with the latest trends and best practices. That means tweaking your site regularly and implementing periodic refreshes of your site.
If you are regularly adding content, you will also need to keep up with your website maintenance. Each new page of content will require design support to make it look branded and appealing.
Small business owners may not have the time or the desire to keep up with the latest web design trends. That means that keeping up with your own web support may lead to an outdated look over time.
If you prefer to keep your site updated and modern, you may want to hire professional website support.
For example, a web support company can implement fresh images to match the season and the holidays, incorporate web design trends, tweak design elements that aren't working for your site, add product pages as you add products, design and post blogs, and more.
Your web support company can also help you sort through the latest trends to identify and incorporate the ones that work with your business while eliminating the ones that would not serve your business goals and branding.
As a result, professionally updated content and design can keep your site as professional and welcoming as your business itself.
Providing your own web support may save you money up front, but it will likely cost you time, money, and website visitors in the long run. Do not allow DIY website maintenance to steal your time, undermine your website security, increase downtime, or detract from the appeal of your site.
Here at Distinct, we can design a beautiful WordPress website that fits your needs, and maintain it with affordable and comprehensive services. Since we put small businesses first, we keep our prices within your budget so you can thrive.