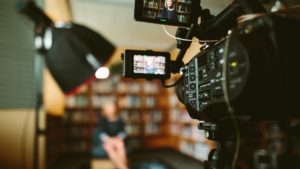 Video marketing is powerful. Just ask the consumer: 84 percent say they decided to purchase a product or service because of a marketing video. No wonder two-thirds of marketers use video in their campaigns.
Understanding the power of video and being able to leverage it for your own business, however, are two different things. When you are a small business, the need to create compelling videos on a budget makes the task seem even harder. 
That is why we have compiled a list of some of the most effective and creative video marketing ideas out there. 
Tutorials
Customers like to learn about your industry and about your products and services before they buy. In fact, 72 percent of consumers prefer to use videos to learn about products and services. 
You can cater to this desire by creating tutorial videos. These videos should demonstrate how to use a product. You can also use these videos to showcase unique ways of using your products that customers may not yet have thought about.
For example, say you run an arts and crafts supply store. A tutorial on a craft that uses popsicle sticks can offer a creative idea that might also bring people to your store looking for supplies. 
Tutorials can make your products feel intimidating to use. When customers have questions about how a product works, they can check out your video. When they buy a product and run into a problem, they can visit your video to see where they are going wrong. With that kind of information at their fingertips, consumers can purchase your products and services with confidence. 
Product Reviews
Another type of product-focused video is the product review. The key to these videos is to have a customer review the product. You reviewing your own product will not compel customers to trust your brand, or your products. 
Having someone who has purchaser and useful the product to review it, on the other hand, is an easy way to win over viewers' trust, and hopefully their business. A product review should include a look at the product and what it does, as well as an honest examination of its pros and cons. Make sure these videos are honest and genuine in order to win over viewers' trust.
Customer Testimonials
A product review by an actual customer is known as social proof. Social proof is any recommendation or affirmation by a customer that a business or a product is worth patronizing.
Social proof is extremely valuable in marketing. People trust other customers' reviews and opinions. If you can get customers to support your products and services, you can improve how potential customers perceive and interact with your brand.
Videos can serve as a kind of social proof for your business. If you can find customers who are willing to leave positive reviews and testimonials on camera, you can tap into video marketing gold. 
These videos can be compilations of customer testimonials. They can focus on one customer's experience, like a case study. Whatever format you choose, highlighting happy customers on video makes your business look good in front of viewers.
About Us
Customers often like to learn more about the companies they are thinking about patronizing. Giving them fun and useful insights into your business can be an entertaining way to fill this need to learn more about your brand. 
About us videos should be engaging glimpses into your company's culture, values, and goals. There are a number of forms these videos can take. Consider trying some of the following:
Introducing team members

Giving behind-the-scenes tours

Providing a visual history of your business

Telling the stories of the people your

nonprofit

serves
Education
Video marketing, as with any other type of marketing, is sometimes useful as a way to establish your expertise in your industry. People naturally want to patronize businesses that know the most about the industry. They believe that experts can provide the best products and services.
If people recognize you as an industry leader, they are also more likely to remember your company's name when they need products and services that you offer. Establishing yourself as an industry leader makes it easier to win leads and conversions. 
Video marketing can help you to establish your expertise by giving you an avenue to use to educate your viewers. These educational videos can address many topics in your industry. 
The key is to use these videos as a way to tap into the talent and knowledge you have within your company. You can make a one-time video on a subject, or create an ongoing video series. If you think the topic will interest your viewers and you think that you have the expertise to handle it well, an educational video can be a good choice.
Using video marketing to reach out to potential customers is an effective technique. Because you have so many options for creating videos, it is also a good choice for many businesses with many different types of budgets. 
Making compelling videos does not have to be expensive or time consuming. If you want help together started with a video marketing campaign, reach out to Distinct Web Design. We can help you brainstorm and develop videos that advance your marketing goals. 
If you want to enhance your online presence in other ways, we can do that too. From Google Ads to video marketing, we can help you leverage online advertising for your brand's advantage.