Web hosting is critical to the success of your website, because your web host provides the resources necessary to make your site accessible online. Unfortunately, many small businesses do not understand web hosting, or what they need from their web host.
Here at Distinct, we want to make sure that you receive the web hosting services you need, without getting caught in expensive set ups that exceed your needs, and your budget.
To get you started, we have put together some important web hosting terms you need to understand in order to successfully find and use a host for your site.
Backup
Backing up your website data is a non-negotiable step in securing your site. If sudden data loss from weather, hacking, or human error throws your website into disarray, having recent backus can make the restoration process faster and easier.
You should always create your own backups in order to ensure instant access to critical information in case of an emergency. However, your web host should also provide reliable backups of your data.
Make sure this backup occurs on a regular schedule and that you understand both what is backed up and how long backed up information is retained to ensure you get the web support you need for your business.
Bandwidth
Bandwidth is important when choosing a web host, because it determines exactly how much data can be transferred to and from your site, which means it determines how much website traffic your site can handle.
If you use a shared server, you will split the bandwidth of the server with the other websites housed there. If you choose a dedicated server or a cloud server, you may have more room for your site.
A small business website probably does not require a dedicated server, but you should be aware of your bandwidth needs, what your web host can provide, and your options for scaling up as your business grows.
Caching
Caching refers to the process of storing certain static web pages on the server. By copying them onto the server, the web host allows them to load instantly when a visitor tries to access them.

Caching improves load speeds for pages that do not change very often (e.g. About Us or Contact Us pages). As a result, caching can improve user experience of your site and improve SEO performance as well.
Disk Space
In addition to bandwidth, disk space influences how big your website can get with a particular web hosting plan.
Disk space refers to the amount of space you have on a server to store files, emails, web pages, and other information related to your site.
The more disk space you have, the bigger your
Domain Name
Your domain name is the name of your website. For example, google.com is the domain name of Google, while becomedistinct.com is Distinct's domain name.
Before you implement web hosting for your website, you will need to purchase a domain name for your site. Typically, you will renew this name every year.
If you need help finding and purchasing a domain name, Distinct can help you get the perfect name for your site so you can move on to getting your site hosted.
Firewall
A firewall is a security tool that monitors traffic coming in and out of its network. Traffic that does not pass inspection is not allowed to pass through.
As a result, a firewall can provide important security against hacking attempts, keeping your website safer.
Your web host should provide a strong firewall on all of its servers in order to protect the website housed there. Inquire about their firewalls and other web hosting security protocols before you settle on a web host.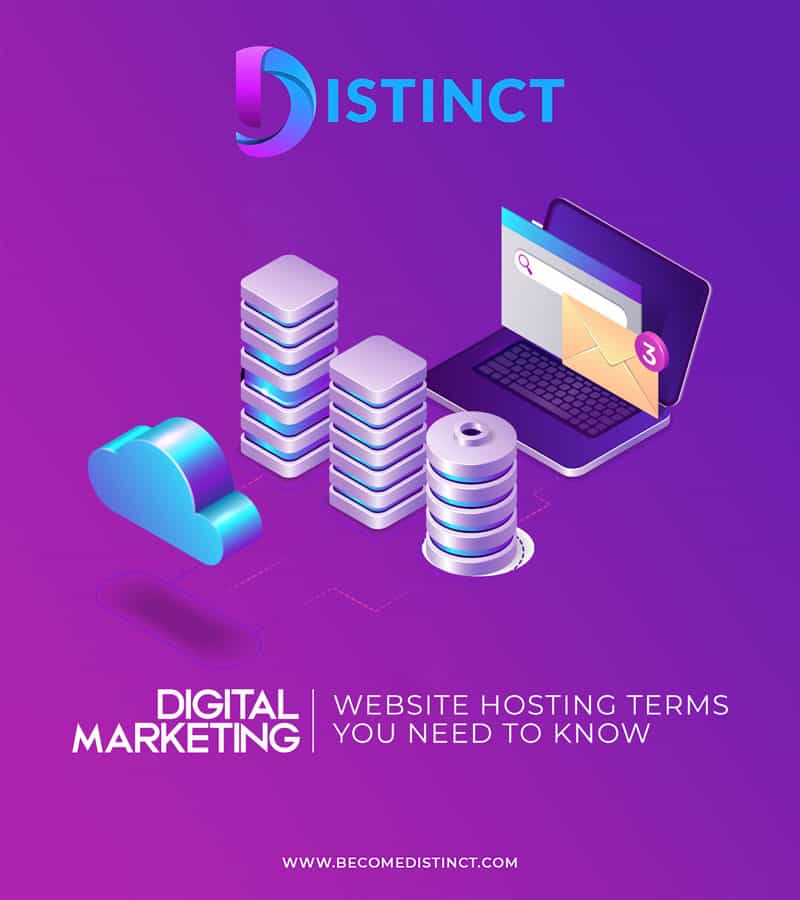 SSL Certification
SSL certification, or secure socket layer certification, is a method of encrypting the data that moves to and from your website.
SSL certification is critical in guaranteeing the security of your customers' sensitive data, and in earning enough of their trust to earn their business.
You can obtain this certification on your own, but you will need to pay for it. Alternatively, you can choose a web host who offers an SSL certificate, preferably for free.
By using your web host, you can simplify the process of obtaining your certification, and you may be able to do it less expensively, making this a feature that can set one web host apart from another.
Uptime
Any web host you speak with should be able to tell you how much uptime to expect if you use their services to get your website online.
Uptime refers simply to the amount of time that your site is accessible to visitors. You won't ever get 100% uptime (and if someone promises you that, you should look elsewhere for your web host).
However, your host should be able to guarantee at least 99.9% uptime for your site, and be able to back up their claims with references and reviews from satisfied customers.
You will also want to make sure your web host has round-the-clock support services available to resolve any problems quickly when your site does experience downtime.
Web hosting may have a lot of terms to learn, but it does not have to be an overwhelming aspect of setting up a site. Here at Distinct, we can set you up with reliable, secure web hosting services that meet your small business needs. It is all part of our commitment to providing the website support you need to thrive online. Let us know if we can help you with your web hosting or any of your other digital marketing and website needs.