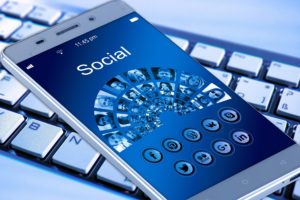 The economic landscape is an uncertain one nowadays. Global fears and concerns, a plunging stock market, and consumers' reluctance to shop in person are making it increasingly difficult for small companies to attract business.
What can small and medium businesses do in the midst of these difficult times? While they cannot change the economic landscape, they can take steps to connect with consumers digitally. These digital connections can create brand awareness, brand loyalty, and online sales. These connections keep communities strong and small businesses functioning even in economic times that are less than stable.
That is why here at Distinct Web Design we are offering access to one of the most personal, and powerful, digital marketing channels businesses can use: Social media marketing. For new marketing customers, we are now, and for a limited time, offering free social media management.
Why is social media marketing so important?
If you think that social media is only for connecting with your friends, then you are overlooking a powerful marketing channel that has positively impacted thousands of businesses just like yours. Consider the following statistics:
3.5 billion people (45 percent of the world's population) use social media every day.
These users spend an average of 3 hours a day on social media.
More than half of these users (54 percent) use social media to learn more about products and services they are thinking about buying.
Even more of these users, 71 percent, will recommend a business to their networks if they have a positive experience with that business on social media.
Almost half of consumers trust the recommendations of influencers on social media.
Almost ¾ (73 percent) of marketers believe that social media marketing is an effective digital marketing tool for their businesses.
In summary, many people use social media frequently and for the purposes of finding and purchasing the products and services they need. Now, more than ever, reaching people through those networks is a smart way to grow your business.
What benefits can I expect from social media marketing?
If you want to connect with potential consumers, you have to meet them where they are, and, as the statistics above show, they are on social media. Not only are they on social media, but they want to connect with businesses there as well. You won't be an awkward interloper into the social media conversation. You will be a welcome addition to it, if you go about your social media marketing campaign the right way.
In today's uncertain economic times, social media marketing is an even more appealing addition to your business marketing plan. Through social media, you can build brand awareness and loyalty, maintain relationships with customers, and even encourage sales, all for minimum cost even while consumers are choosing to stay at home.
Here are just a few of the benefits you can enjoy as a business when you engage in social media marketing.
Increased Brand Awareness
As you create a strong social media presence and expand your networks, you will gain more visibility as a brand. As people talk about your business and share your posts online, your business gets spread to wider and wider audiences. When people need the products and services you offer, they are more likely to reach out to you instead of to a competitor. If you are online and your competitor is not, you are even more likely to earn the attention, and the business, of consumers.
Improved Customer Relationships
Social media is often about building relationships. When you are on social media, you enjoy the opportunity to build meaningful relationships with your customers. Resolve issues. Discuss topics of interest. Share your knowledge. See your customers enjoy your business more and more.
Industry Thought Leadership
You know a lot about your field. Share that knowledge through social media. From sharing blog posts to offering thoughtful comments on others' posts, you can gradually build a reputation as someone knowledgeable and trustworthy.
Access to Target Audiences
The people you want to reach are on social media. You can target your ads, create posts, and spread word about your business to more of your target audience than you could have reached on your own.
What comes with social media management?
Are you convinced yet that social media marketing is the way to go? Then take advantage of our offer for free social media management. New marketing customers receive totally free support as they launch and maintain their social media presence. As part of this deal, you will receive the following:
Development of daily posts across all of your preferred social media channels.
Guidance and support in choosing your social media channels and developing your campaign.
Images to accompany each post.
Twice-monthly reports on the performance of your social media channels.
Our goal with social media management is to help you craft a powerful online presence among the audiences you want to reach. When you connect online, you overcome the barriers presented by quarantines, fears, and economic uncertainty. You create relationships that can lead to happy, loyal customers. Let us help you take advantage of that opportunity with our free social media management services for new marketing customers. Reach out today.